Your First Visit to Driscoll Chiropractic Care Clinic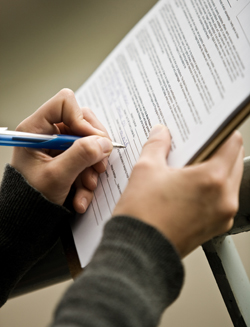 Collecting your information
On your first visit to our office, you will meet Jen, my Chiropractic Health Assistant. She will welcome you and ask you to complete some standard paperwork. We will only collect information that is considered necessary for your care. We have a privacy policy in place to protect your information.
Jen will bring you to our treatment room and review what will happen when you meet Dr. Driscoll. Jen will also review our payment policies so that you understand our expectations in this regard. This process should take less than 5 minutes. The examination process may take up to 30 minutes depending on your condition(s).
Uncover the problem
When you meet with Dr. Driscoll, the first part of the examination is to talk about what is going on. A series of questions will be asked as Dr. Driscoll tries to uncover the complete scope of your musculoskeletal problem.
If you have many musculoskeletal problems, Dr. Driscoll will ask you to order your problems from most to least severe so that he more fully understands your concerns.
Examination
Following this discussion, the examination will begin. There is no need to disrobe. He may ask to visualize an area of complaint to look for any bruising or swelling but this will be communicated to you during the examination process.
The examination will be thorough and organized in a fashion to gain information to allow Dr. Driscoll to address your musculoskeletal complaints in the order of importance to you. Based on the examination, Dr. Driscoll will determine if more imaging is required.
If x-ray analysis is required, he will send you to one of many medical facilities. Patients can choose the medical facility that best suits their needs. Your OHIP insurance will cover the cost of these x-rays.
Diagnosis
Once the necessary information is obtained, your musculoskeletal conditions will be diagnosed. You may receive treatment on your first visit. However, this will depend on the diagnoses given.
Dr. Driscoll will explain what is going on based on the information that is gathered and discuss your consent for treatment. The treatment options will be discussed and any concerns you may have will be addressed.
Check-out
Once you have finished with Dr. Driscoll, you will proceed to the front desk where Jen will have you sign your file and any paperwork that is necessary for reimbursement of our services. Depending on the extended health coverage you have, you may be required to pay unless they pay us directly. Jen will work with you to reserve a convenient appointment time for your next appointment.
Please contact our Thorold office at (905) 227-2679 to schedule your appointment.
---
New Patient Center | Driscoll Chiropractic Care Clinic | Thorold, St. Catharines | (905) 227-2679