Meet Dr. Darcy Driscoll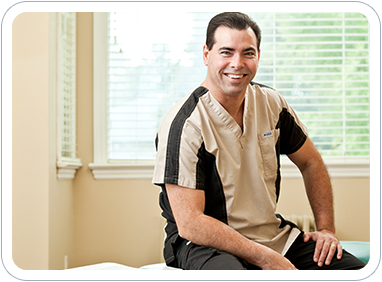 Is Covid-19 FEAR holding you back?
Many patients have a fear of the unknown! In many cases, this fear makes them avoid the care they need. So let's talk about it as Covid-19 is on all of our minds right now.
We are taking proactive steps to protect you as your health and welfare are very important to us! To help with physical distancing, we are controlling entry and appointment times to remove overlap at the front desk and in the office. The waiting room chairs are stacked and will not be used for quite a while into the future. If you arrive at the office for your appointment and the door is locked; please know that you will be let in as soon as it is possible. I am likely finishing the treatment of another patient. Please wait in your vehicle until the other patient gets into their vehicle. Walk-in appointments cannot be accommodated for at this time to help with physical distancing.
While we have always been committed to sanitization and infection control, rest assured we're taking special precautions these days. A contactless, infrared thermometer will be used to check your temperature when you enter the office. Hand sanitizer is provided when you enter and leave the office. Only patients that have appointments will be allowed to enter the office. We will require patients to wear a mask.
High Efficiency Particulate Air (HEPA) purifiers are also used in the office and treatment rooms to clean the air. Hospital-grade disinfectant that contains a virucide, bactericide, tuberculocide and fungicide will be used to wipe down all equipment and treatment tables after each use as well as other high touch surfaces like the point-of-sale machine, counters and door knobs. Team members will continue with proper hand hygiene in accordance with Public Health guidelines and as, many of you already know, Dr. Driscoll wears gloves that are changed after each patient.
Do not let fear hold you back. Do not let your suffering continue because chiropractic care could help you.
A Career in Chiropractic
When I was a graduate student in medical biophysics at the University of Western Ontario, I started to experience chronic and persistent neck pain. I figured that this neck pain was from the weird positions I would have my neck in as I was performing my research. I was tired of taking pain and anti-inflammatory medicine. I began looking for another option by reviewing the scientific literature.
I discovered that the musculoskeletal benefits of chiropractic care were irrefutable. I was a skeptic as I had no prior experience or knowledge of chiropractic care prior to this point. I visited a chiropractor with the same fears as most people would have. After I received my first neck adjustment, I remember laughing out loud as the audible noises were like nothing I had experienced before.
There was no pain with the treatment and I quickly recovered from my problem… that is the spinal adjustment removed the source of the irritation in my neck. That was the beginning of my story and this experience changed the course of my life. Now I help change the course of other peoples lives by trying to eliminate the source of their pain!
Chiropractic Education
After completing my Masters of Science in Medical Biophysics I knew that I wanted to become a chiropractor as I had experienced so much benefit from care personally. The problem was finding a way to make it happen.
My Chiropractor at the time was very influential in helping me achieve my dream. He suggested that I use my research experience to advance Chiropractic as the profession could only be helped by more research. This was my moment; a point in my life where everything was clear. I have him to thank for this guidance. I decided to expand on my research interests and apply them in the chiropractic profession.
I wrote the president of Parker College and informed him that I had a better way to investigate the effects of spinal adjustments on the cardiovascular and autonomic nervous systems. After reading my proposals, Dr. James W. Parker, the founder of Parker College (now known as Parker University), awarded me a full tuition scholarship based on my working for the research department while going to school. I published 3 articles from this work in the Journal of Manipulative and Physiological Therapeutics.
My most recent publication entitled "Prevalence of cardiac arrhythmias in a community based chiropractic practice" was published in the Journal of the Canadian Chiropractic Association (JCCA 2014; 58(3):238-245).
Away from Driscoll Chiropractic Care Clinic
I am happily married for 23 years and have 2 wonderful children ages 18 and 15. My daughter has just finished her first year of University and wants to become a teacher. My son loves singing and also excels at science and math and now wants to become a medical doctor. We all still love musical theatre and often think about the musicals we have performed in (Peter Pan, the Wizard of Oz and Mary Poppins). I loved being on stage with them. It has been an ABSOLUTE JOY to see them develop into such confident young people!
Living a healthy and fulfilled life is what we all want! This goal requires effort. I am no different than you in this regard. We strive to eat well and exercise and incorporate chiropractic care as part of our health plan. We get adjusted regularly and I check my children on a monthly basis to address any spinal fixations or restrictions before they amount to a bigger problem. Our children learn by our example.

Contact Us Today!
Enough about me! I consider myself a great listener and I look forward to meeting you in person and discussing your health concerns. Give our Thorold office a call or click here to email me.
---
Dr. Darcy Driscoll | Chiropractor Thorold St. Catharines | (905) 227-2679