Fast, Effective Back Pain Treatment
Welcome to Driscoll Chiropractic Care Clinic in Thorold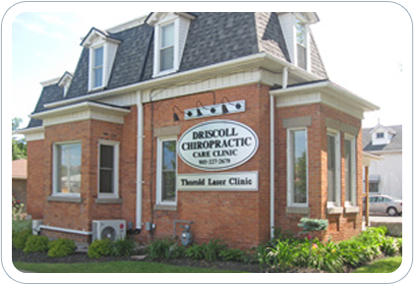 Have you been sidelined by back pain? If you answered yes, Thorold Chiropractor, Dr. Darcy Driscoll wants to help you.
Driscoll Chiropractic Care Clinic has been providing safe and effective chiropractic care to the Niagara region since 1998. We'll help you get out of pain – and stay out of pain!
Natural, Drug-Free Back Pain Treatment
Dr. Driscoll's natural, drug-free approach to health care can help with many common back pain conditions such as sciatica, lower back pain, degenerative disc disease, scoliosis and spinal stenosis.
Whether chronic back pain that has been bothering you for years, you're suffering from sharp sciatic nerve pain, or you have acute back pain caused by a new injury, Dr. Driscoll understands your pain and can help.
We offer same day appointments and will bill your insurance company directly. So, what are you waiting for?
Call (905) 227-2679 or book an appointment online now!

Patient Testimonials
Dr. Driscoll didn't only diagnose my problem but took the time and care to look for other areas that may be effecting my back. He used his extensive knowledge to explain exactly what he was doing and how it could help me. He truly cares about his patients and only wants the best for them.

Thank you Dr. Driscoll for listening and helping me, for all your concern, very informative and complete explanations. Thank you also to Judy's help. More blessings to come.

I am so glad that I found your practice. I know that you will do all you can to help me.

I found Dr Driscoll to be very knowledgeable and thorough in his examination of my issues. He displayed a very genuine care for my health and made me feel confident in his assessment. I feel very hopeful that treatment and other options he will provide me will benefit me and look forward to further visits.

Very very professional. You didn't just snap crackle and pop my body. You used tools, did tests and you believed me when I said something is wrong. Most importantly I feel confident that I will be cared for properly. Looking forward to the next appointment.

Just walked in, unsure what to expect, wildly exceeded expectations.

Darcy was great and knowledgeable and super understanding. He made my first appointment great! Will refer his practice. 

Felt very comfortable and am looking forward to a great recovery.

Looking forward to a long healthy relationship!

Dr. Driscoll is very helpful and informative.

For the first time in many years, and after seeing a multitude of health care providers, I feel extremely hopeful for the first time that Dr. Driscoll will be able to help me. Thrilled with this prospect and can't wait to get started.

Thank you for taking the time to listen to what I had to say and explaining how we were going to approach my care.

I was surprised in how fast and effective the treatment resulted in pain relief and back position correction. Thank you!

Everything was explained to me so that I understood. Both Dr. Driscoll and his secretary were very nice.

I could not have received better treatment! Dr. Driscoll accommodated me immediately when my back pain was at its worst (and made special weekend appointments for me), and I have been completely amazed Read More>>

Amazing experience! I felt heard and taken care of. Thank you for such great care.

Chiropractor Niagara Region | Driscoll Chiropractic Care Clinic | (905) 227-2679